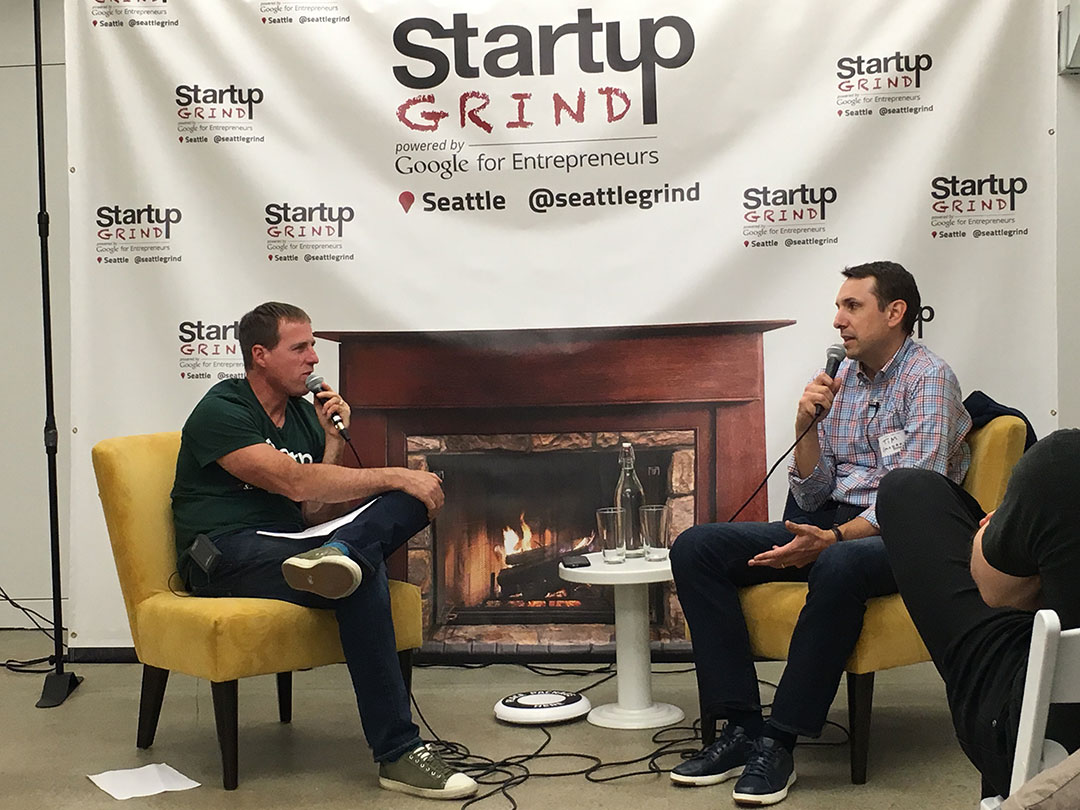 Another great Fireside Chat held at Galvanize on September 27, 2016. Great food, drink and networking were enjoyed by all. About 100 attended. Mike Grabham was our host and Tim Porter of Madrona Venture Group was interviewed by Mike.
Mike started by asking Tim about his background and how he came to be a Managing Director at Madrona Venture Group. Going way back, Tim said that he started in engineering at MIT and in 1994 parlayed that into a position at Weyerhauser. This was his introduction to the Pacific Northwest, a place he truly enjoyed and has since made his home. His next big change was in 1996, when he became involved with Teledesic, building a global satellite network to deliver high-quality, broadband communications services. This eventually led to his interest in technology and finance.
From 2001 to 2003, he attended the Stanford Graduate School of Business and achieved his MBA. From 2003 to 2006 he worked at Microsoft to source, evaluate and execute strategic acquisitions and investments for Microsoft. Tim focuses on Technology and B2B companies. Tim and Madrona are very focused on the Northwest for sourcing potential investments and the majority of their business is in the Pacific Northwest.
One of the benefits for a founder who works with Madrona is for Madrona to act as a sounding board for the entrepreneur. Tim noted that being a founder can be a lonely business, and someone with an independent view can be of substantial help in overcoming some of the obstacles faced by entrepreneurs.
Mike asked Tim how he earned his first dollar (a question he asks most people he interviews). Tim said that his first job was mowing lawns – mostly for friends and family, but also for others.
Mike then asked what the critical pieces were in determining whether or not they may work with a particular entrepreneur/company. Tim said that the three most critical areas were the Team, the Market and the Product. The best entrepreneurs tackle a specific market and are Smart, Customer Focused, Understand the Pain Point and Understand the Market.
What surprises Tim had seen in companies and teams he had worked with was the next question. Tim said that the majority of surprises were positive regarding how the teams worked together and worked through some of the challenges that are typically faced by startups. At Madrona, they work in teams of two when taking on a new company. They are looking for companies that are willing to test their product or service with customers and address and correct any flaws that may occur in their product or service.
Mike then asked what impressed Tim the most in the Seattle/Northwest startup community. He said that the presence of some of the major players in technology was certainly of benefit. The community has continued to grow the likes of Microsoft, Amazon and even Google actively involved and naturally fostering innovation and invention. Of the five largest tech companies in the world, two are located in Seattle. He also talked about the Northwest being one of the leaders in cloud technology and now in virtual/augmented reality. He is also impressed with Northwest entrepreneurs having a balance of intensity with work/life. That said, we could certainly have more capital for startup ventures in the Northwest. Tim said that Seattle is an exceptional place to build a company: access to talent, temperate weather and a strong entrepreneurial ecosystem.
Regarding the ecosystem, Mike next asked which was harder to get funded, SaaS (Software as a Service) or B2B (Business to Business)? Tim said that it's a broad ecosystem, and either of them, or anything else, can get funded if it's a good value proposition.
Tim's advice for a new idea included:
Customer Focus – Make sure that your customers will want what you have to offer. Validate the opportunity. A great idea with no customers is not good startup.
What type of funding is appropriate – Get as far as you can before you need funding. Start with friends and family, then consider angel investors, and finally venture capital. A Madrona Series A investment is typically from $1 ½ million to $ 4 ½ million.
The market – Make sure you test the market and validate the opportunity.
Investors – Don't tell them what you think they want to hear, give them the straight information.
For investors – Make sure that the team for the new idea is a team you would want to work with.
Mike then asked "When does a startup look for funding?" Tim responded simply "When you need it." Go as long as you can without funding, but plan for funding by contacting and communicating with potential investors on an ongoing basis. This way, when you are ready, you will have a roster of potential investors. Funding bottlenecks usually occur in the area of sales and marketing. Both are usually required to foster fast growth and are a key part of your ability to scale.
The next question was "What was your most famous mistake?" Tim said it was a company called Corensic. They had a technology to debug parallel coded systems. The market wasn't validated enough. The company subsequently failed and the team and assets were purchased by F5 Networks.
Mike asked "What does an entrepreneur do before they ask for money?" Tim responded:
Know which prospective investors might be the best fit
Have a deck prepared that tells your story
Address the major asking points
Line up several investors to contact
With Angels, find a lead investor to help with the process. A lead investor will usually be one who is very interested in your endeavor and will be a champion for you with other investors.
Identify a range of funds you will need and be able to justify it.
List the various milestones that you expect to accomplish with that funding and with future funding.
Angel investors are looking for what your proposed terms might be (term sheet) while Venture Capital investors expect to establish the value and offer terms to you as an entrepreneur.
Tim also said that it's not hard to contact a VC, but if you want to make headway, it's best to have a warm referral.
We ended the session with some final questions and more networking. It was a great fireside chat and good information from an accomplished Venture Capital representative. Thanks, Tim and Mike!
Ken Carlson, Owner
Carlson Specialty Services
Kec5362@gmail.com
206-618-6488
For more information about Startup Grind, visit startupgrind.com .